From the Occoneechee Council Sea Scout Committee
in Occoneechee Council
. . . is alive, well, and
ready to GROW!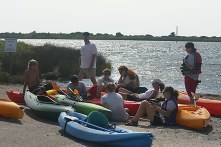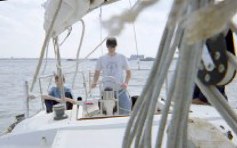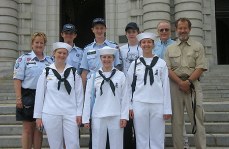 Sea Scouting is an exciting, fun, high adventure, on-the-water, traditional Scouting program for high school age youth. And with plans to develop a Sea Scout Base on Kerr Lake, the opportunities are surely to increase for the youth in the 12 county area of North Carolina served by Occoneechee Council. (See county list below.)
If you are in
HIGH SCHOOL
go directly to our YOUTH PAGE.
Background and overview:
An
ad hoc
committee began meeting once or twice a month in October 2006 to get things started aimed at forming an official Council Sea Scout Committee. The official committee began meeting monthly in January 2007.
An initial effort of the committee is the organization of at least one new Sea Scout unit (called a "ship") in each of the council's 13 districts. Only in this way can we provide Sea Scouting for any high school youth in our council area who wants it!
Persons interested in becoming a Sea Scout, serving as an adult leader, organizing a new ship, or serving with the council committee should click on the "Contact Us" link at the bottom of the list on the left. Let us know as well if you are willing to become a resource to Sea Scouting, using your knowledge, abilities, or your boat to benefit our program. Your inquiry will receive a quick reply.
Donations of boats and gear for use in Sea Scouting are also gratefully considered and may be tax deductible.

North Carolina Counties Served by Occoneechee Council
(map shown below)
| | | |
| --- | --- | --- |
| COUNTY | PORTION | DISTRICT |
| Chatham | All | Three Rivers |
| Cumberland | Except Ft. Bragg & Pope AFB | Kia Kima |
| Cumberland | Ft. Bragg & Pope AFB | Tuocs |
| Durham | All | Mawat |
| Franklin | All | Great Northern |
| Granville | All | Great Northern |
| Harnett | All | Cape Fear |
| Lee | All | Three Rivers |
| Moore | Except Ft. Bragg & Pope AFB | Moore |
| Moore | Ft. Bragg & Pope AFB | Tuocs |
| Orange | All | Orange |
| Vance | All | Great Northern |
| Wake | Inside Raleigh beltline and US-70 W | Baden-Powell |
| Wake | Northeast | Neuse River |
| Wake | Northwest | Falls |
| Wake | Southeast | Hemlock |
| Wake | Southwest | Crosswinds |
| Warren | All | Great Northern |
Map of Occoneechee Council