Recent Developments
This page is for "happenings of interest" since you were
a Sea Scout in the Davy Jones.
Your input is invited. See
Contact Us
for addresses.


For starters, look at the NEW Charles T. Hagan Sea Scout Base facilities at High Rock Lake.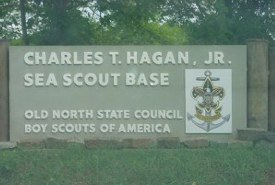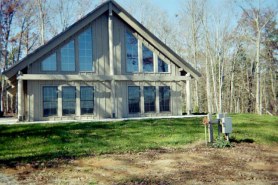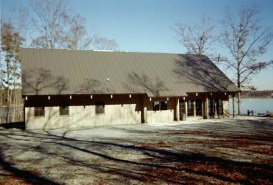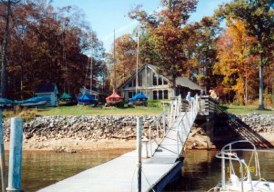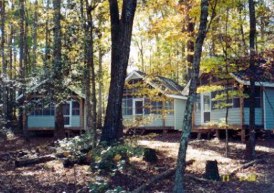 DavyJones@yahoogroups.com


An email "discussion list" is located at http://groups.yahoo.com/group/davyjones. It is hoped that this will facilitate further communications among shipmates, leaders , and friends.
You may become a member by sending an email to davyjones-subscribe@yahoogroups.com.
Please include your "real" name, postal mailing address, and relationship to SSS Davy Jones with your request to be added to the list.



History group meeting
July 6, 2006
Bob Roberts, Carroll Sasser, and Bob McAllister met in Chapel Hill in the Senior Center to review and assess the progress on building a permanent exhibit and a written history memorializing the SSS Davy Jones and promoting Sea Scouting.
Bob Roberts presented a drawing of the display case that he proposes to build or have built. The basic design seems capable of developing into an impressive exhibit. The case is to be placed at the Charles T. Hagan, Jr. Sea Scout Base at High Rock Lake. It will primarily focus on the story of the Sea Scout Ship Davy Jones from 1928 through 1998, when the SSS Davy Jones was decommissioned.
There seems to be substantial documentation for the period 1938 through 1940, but the data before 1938 and after 1940 are sketchy or non-existent. What are especially needed to fill in the history are annual membership rolls, records of advancement, activities, names of adult leaders, and Ship Committee Members. Photographs, and personal stories of individual Sea Scouts in the Ship are always welcome, and help fill out the heritage of the SSS Davy Jones.
Carroll Sasser examined the Skipper Hagan correspondence file. He also made notes of pertinent information found by Bob Roberts. Those notes are presented in an email to Bob Roberts, and Bob McAllister.
Carroll is sending a letter to all those Sea Scouts on our present mailing list, asking for any documentation, and personal stories of experiences with the SSS Davy Jones, to be sent to Carroll Sasser or to Bob Roberts.




Summer 2006

September 6, 2006


Summer 2006 has given me a great gift. I have been granted the unusual opportunity to relive a part of my life in an intimate and thorough way. The window that has spread out before me this summer spans my high school and early college years. When my family moved to Greensboro in 1937 my brother Jean and I were energetic and devoted Boy Scouts. We were both Eagle Scouts with more merit badges piling up on our merit badge sashes. Shortly after arriving in Greensboro, Jean discovered Sea Scouting.


The ultimate pleasure of Sea Scouting is sailing with friends on a beautiful and breezy day. There is always a thrill of adventure when you fully place yourself in the hands of God, the wind, and/or the water. To enjoy the benefits of safe boating requires a thorough understanding and practice of water safety, seamanship, swimming, life saving practice, and continuous maintenance of equipment. These fundamental skills plus community service and good citizenship are emphasized in Sea Scouting. There's more. Companionship, brotherhood, community, and close friendships are built into the fabric of all Scouting traditions.

The age requirements for Sea Scouts in 1937 were for boys from 15 to 21, and I was only 14. Jean joined the Sea Scout Ship Davy Jones, but I had to wait a year to join. I entered Greensboro High School in 1937 and remained in the Sea Scouts until my third year of college, which began in Fall Semester 1942.

In May 2006 there was a reunion of all the Davy Jones Sea Scouts whom we were able to contact, and who were able to come. From 50 to 60 former Sea Scouts, several with spouses, came to the reunion. It had been 65 years since many of us had seen each other. There was much catching up done, and exchanging of yarns of what we did as Sea Scouts. One of the benefits of the reunion was that the deep feelings of community that we had experienced as Sea Scouts, were instantly revived. The highlight of the meeting was when our former Skipper (equivalent to a Scoutmaster in a Boy Scout Troop) Charles T. Hagan, Jr. at 93 years of age was ushered into the meeting. He used a walker to help himself move around, and his voice was not strong, but his mind was still sharp and his memory was much better than mine. When I got to chat with him, he told me things I had forgotten many years ago.

Skipper Charles T. Hagan, Jr. was beloved by everyone who knew him. He was an exemplary leader, and a friend to every Sea Scout. Under his inspired leadership the Sea Scout Ship Davy Jones became Regional Flagship in 1938 and 1940, and the National Flagship in 1939, i.e. the best Sea Scout Ship in the country of a total of about 2,500 Ships. While being a leader, Hagan worked side by side with his boys. By example, he showed us the way to live mature, honorable, and productive lives. Charles T. Hagan, Jr. is one of the greatest men I have ever known. He was a Captain in the U.S. Marine Corps Reserves when World War II began. He was called to active duty early in 1942, and became a Major General before retiring from active duty. When Hagan was called to active duty, Harold L. Ross stepped in as Skipper and he did a superb job of leading the Davy Jones on to more outstanding programs.

In the midst of the recent nostalgia, there has been a desire to memorialize the Sea Scout Ship Davy Jones and its leaders and crews by writing their history. A large amount of archives have been collected, about the Davy Jones, and I have been asked to start work on its history. It is a monumental task. I think I have sufficient information, however, to recount the experiences of the Davy Jones to show future generations how they can realize the delights and benefits of Sea Scouting.

While examining the material that has been collected this far, I discovered that I had totally forgotten many of the events that I had participated in as a Sea Scout. I am amazed, yet gratified that I have been exposed once more to the adventure my life was as a Sea Scout. May I be able to convey my joy and gratitude to inspire a future lonely, and perhaps confused boy (as I was) to become a Sea Scout.

--- Bob McAllister



Gathering at Hagan Sea Scout Base
October 3, 2006
A group of 16 former members, leaders, and friends of SSS Davy Jones met on Saturday, September 30, 2006, at that memorable site on High Rock Lake ... Charles T. Hagan, Jr., Sea Scout Base. The new lodge building made a perfect setting for the gathering.
It was a great treat to have the base's namesake in attendance and for him to see all that has been done to improve the facility that was used by Greensboro's Ship 3. Hagan was Skipper during the "Glory Days" of Sea Scouting when Davy Jones was the National Flagship in 1939.
Those in attendance saw the permanent display cabinet which is under construction inside the lodge building. It will house some of the memorabilia from the Davy Jones historical collection. Designed by Quartermaster Bob Roberts, the cabinet is being built by Jim Welborn of Southmont.
Also on hand were several draft copies of a written and fully illusrated history of the Davy Jones which is being developed and edited by Quartermaster Bob McAllister.
Compact discs (CDs) of most of the material from the Davy Jones 1941 Log Book and supplemented with some new material were distributed to those present by Wayne Farrar, Skipper of Ship 762 and Director/Curator of Hammerstone Scout Museum in Lillington, NC.
Full size replicas of both the SSS Davy Jones ship flag and the 1939 National Flagship flag made by Carroll Sasser were displayed and will become part of the permanent display in the facility's lodge building.
A delicious meal of Lexington-style barbecue with all the trimmings was enjoyed by the group between sharing of fond memories, tall tales, and wild experiences from times gone by. There is already talk of doing it again in the summer of 2007.
Corky Gray had a sailboat there ready to launch and it is understood that he and Bob Roberts took it out after the crowd thinned out.
--- Carroll Sasser

Your input is invited and will appear right here ...