AHOY! Welcome to the
S.S.S. Davy Jones
Sea Scout Ship 3, Greensboro, North Carolina
1929-1999 and the National Flagship in 1939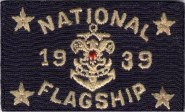 Sea Scouting

Sea Scouting began in the United States in 1912, just two years after the founding of the Boy Scouts of America, It was developed as the first program designed to retain the older boy in Scouting. The natural attraction of boats and boating served to provide the basis for an exciting nautical program following the traditions of the sea. Soon boys were on the water in a variety of watercraft: sailboats, power boats, row boats, canoes, rafts, ... whatever they could find that would float ... or they built their own! Local lakes and rivers provided opportunities for those units not close to the coast or other larger bodies of water.

The program has been offered continuously since 1912 and Sea Scouts have sailed the lakes and seas through calm and turbulent times. Many feel that Sea Scouting is "Scouting's best kept secret!"

Sea Scouting became Sea Exploring in 1949 with no significant changes in the program and began admitting female members in 1972. In 1998, we became part of the new Venturing program of the Boy Scouts of America and the name was changed back to Sea Scouting.

There is a growing resurgence of Sea Scouting as dedicated volunteers provide a quality program and seek to enlarge it, thereby offering it to more and more youth. While there are still many local councils without a Sea Scout ship, progress is being made and it is hoped that before too many years, there will be Sea Scouting available for any youth anywhere in the country who wants to learn or improve boating/sailing skills by participating in a traditional Scouting program and subscribing to the values and aims of the Boy Scouts of America.

This site is about such a Sea Scout ship that continued for 70 years. It is noteworthy that, a few years after SSS Davy Jones sailed its last, another ship was launched and has taken its place in offering Sea Scouting to the youth of the Greensboro, NC, area. We hope they enjoy at least as long a history and wish for them smooth sailing!



This website is dedicated to SSS Davy Jones by
CARDINAL WARDROOM
Sea Scout Task Force
for Areas 5 and 7, Southern Region, BSA