Cardinal

Wardroom
A Sea Scout task force serving North Carolina, South Carolina, and southern Virginia


[SEAL Training]

SEAL Training . . .



Sea Scout Advanced Leadership (SEAL) Training is a petty officer (youth) leadership training course offered by the National Sea Scouting Committee. This is a one week, hard core leadership course that is conducted at sea. If you successfully complete the course you will be awarded the SEAL Training Award, which is a silver pin with twin dolphins, to be worn on your uniform (see above).

This course is a leadership course, not a seamanship course. It covers such topics as preparing, goal setting, organizing, supervising, commanding, communicating, training, motivating, and other skills that will help you in functioning as a leader in your Ship and in life.

To attend a SEAL class you must be a registered Sea Scout. You must have earned the Seaman Ordinary rank prior to attending SEAL training, and you must have a thorough, working knowledge of Chapter four of the Sea Scout Manual.
SEE UPCOMING SEAL COURSES
SEAL Training Report . . . from a
"Top Boatswain"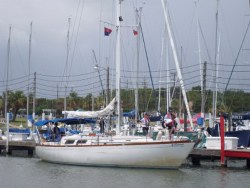 The Texas Gulf Coast SEAL (Sea Scout Advanced Leadership training) course was held aboard the 38-ft. SSTV Gremlin from June 28 to July 6, 2008, with Sea Scouts from California, Maryland, North Carolina, Texas, and Virginia. I was fortunate enough to be selected as a participant representing Ship 207 in Raleigh. This was a hands-on leadership course taught through sailing by Skipper Rob Freas and Mates Dona Hokanson, Andrew Houghton, and Cassie Johnson.

On Day 1, the six of us in the crew met as strangers but were quickly molded into a team. We had a swim test and orientation, followed by Skipper's day as boatswain on the second day. This prepared and educated us on what was to come as he demonstrated what an ideal boatswain should do. One highlight of the day was a "mudding" ceremony where Skipper Freas put mud under our eyes from the historic waters of Galveston Bay after we weighed anchor.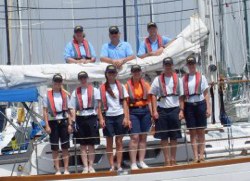 Each of us took our navigation and seamanship exams along with the knot test early in the week. These are required to pass the course and I can proudly say I passed each the first time. Also in advance, we completed a thorough outline of Chapter 4 in the Sea Scout Manual. We studied these concepts to prepare well in advance.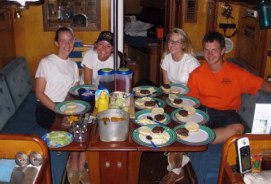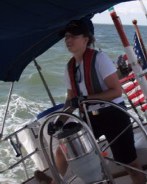 Mid-week proved to be the most challenging, as each of us was pushed beyond our comfort zone and was exhausted both mentally and physically.




We celebrated the 4th of July from anchorage in Galveston Bay. We decorated the boat with flags and confetti and ate ice cream sundaes at sunset. The adults wore crazy hats and each of the crew got beads, glowsticks, and pinwheels. We all watched firework shows in every direction as we listened to patriotic music. It was great to be able to forget about the hard work and enjoy the moment.

The crew enjoyed fresh shrimp on our last night and enjoyed this time together, looking at how far we had come in a week. We were graded throughout the week on every aspect of our performance, from written assignments to practical deck seamanship. Our points were totaled and announced on the last night at our summative conference.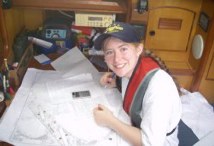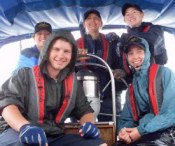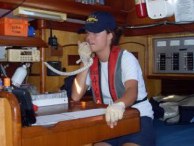 All six of us successfully passed SEAL 2008 and received our silver dolphin pins at graduation on the last day. I am proud to say that I graduated first in the class with the highest overall score, receiving the award, "Top Boatswain of the Course!"

Though this was one of the most challenging weeks of my life, the rewards are countless. Not only will they be beneficial now, but the skills learned will serve me well for the rest of my life. A big thank you to the staff and crew for such an incredible experience!



CONGRATULATIONS! ... and thanks to Bo'sun Gretchen Stokes of Raleigh Ship 207, SSS Juggernaut, for this report.
Origin of the Name of the Course
This course was developed in the early 1990's when Sea Scouting was called Sea Exploring.
The acronym SEAL stood for Sea Explorer Advanced Leadership training.
The National Sea Scout Committee elected to retain the course title
when the name of the organization was changed back to Sea Scouting.
You might say it now stands for SEascout Advanced Leadership training.